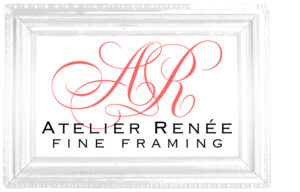 Atelier Renée Fine Framing | 54 Elizabeth Street ~ Suite 3 (The Chocolate Factory), Red Hook, NY 12571. 845-758-1004.
Currently, appointments are recommended. Available Tuesdays – Fridays 10 – 6 and Saturdays 10 – 4 as well as other times upon request.
atelierreneefineframing.com / [email protected]
EXPERT custom framing by Renée Burgevin, CPF
Combining a beautiful selection of moulding styles and mats with conservation quality materials, expert design advice and skilled workmanship, Renée Burgevin, owner/CPF, has more than 30-years experience in the industry. No job too big or too small for this unique workshop. Special services include shadow-box and oversize framing as well as fabric-wrapped and French matting.
Located in Red Hook's Chocolate Factory, the shop also offers mirrors (a selection of vintage and new, or design your own), gift certificates (custom framing is a very special gift), and chocolate!